ICOM IC-7610 Informationen, Hinweis von Sascha DH5SL
Eine schöne Zusammenstellung der bis dato über das Gerät zur Verfügung stehenden Daten gibt es auf der Homepage von Adam Farson VA7OJ/AB4OJ.
Link:
http://www.ab4oj.com/icom/ic7610/main.html
In diesem Sinne
73 de dh5sl
Sascha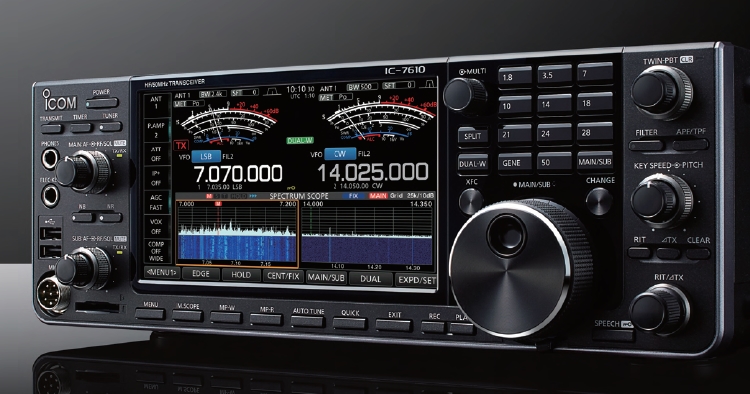 IC-7610 rear panel. Photo courtesy Icom Inc.
IC-7610 screen view (courtesy hamlife.jp)
Simplified block diagram of IC-7610 front end (courtesy Icom Inc.)
RMDR comparison chart (courtesy Icom Inc.)
Typical DIGI-SEL Amplitude/Frequency Curve. Click for description.
Spectrum scope comparison, IC-7610 vs. IC-7600:
Parameter
IC-7610
IC-7600
Scope type
FFT
Swept
Bandwidth kHz
5-1000
5-500
Min. Resolution

*

~ 1 dot
~ 20 dots
Approx. min. RBW
10 Hz
200 Hz
Sweep speed
~ 30 screens/sec.
~ 4 screens/sec.
Display dynamic range
100 dB
80 dB
Screen display
Dual
Single

*

1 dot ~ -60 dBc BW of single carrier
Note: All the above information was derived from published data per the links below, and is subject to change without notice.
IC-7610 Besonderheiten
Direct-sampling/digital up-conversion HF/6m transceiver with two independent, identical receivers
MAIN and SUB receivers can operate independently on different bands and modes (emissions)
SUB receiver tuning knob available by plugging RC-28 controller into front-panel USB-A port
MAIN/SUB Tracking (simultaneous tuning) from main tuning knob (enabled by menu option)
Each receiver front end has dedicated ADC, ADC driver/preamp, BPF group and Digi-Sel tracking preselector
Separate DSP/audio chains for MAIN and SUB receivers; binaural reception possible
Dual TI TMS32C6XXX-series DSP IC's (MAIN and SUB)
Separate AF/SQL controls and EXT SP jacks for MAIN and SUB receivers
Independent MAIN and SUB spectrum scope/waterfall displays(can be stacked L/R or MAIN above SUB)
Dual clock displays
Headphone left/right mix can be turned on or off
MULTI knob for easier operation (similar to IC-7300)
ANT1 and ANT2 ports with switched hybrid splitter for user-selectable dual-antenna (e.g. diversity) or Dual Watch configurations
RX ANT IN/OUT BNC break jacks switchable between MAIN and SUB receiver
10 MHz EXT REF I/O and Transverter I/O BNC jacks
FPGA has MAIN and SUB inputs (from ADC's) and outputs (to DSP's), and display data channel to display driver subsystem
Low-noise, high-performance ADC's
New low-phase-noise clock oscillator with ultra-low-noise clock source provides high target RMDR of 105 dB (1 kHz offset), 110 dB (2 kHz offset) and excellent transmitter phase noise performance
New 100W LDMOS PA unit
High-speed relay-type auto-ATU
Ethernet LAN port supports internal RS-BA1 server as in IC-7851, IC-7700 (FW V2.0 & higher), IC-7800 (FW V3.0 & higher)
LAN Output Select menu option for AF (baseband) or IF
Multiple memory functions
Two rear-panel USB-B ports for CAT control/PCM audio
Two front-panel USB-A ports for USB stick, mouse, RC-28 controller, keyboard etc.
SD card slot for data capture, record/playback, firmware upgrade etc.
Firmware upgrade via SD card or USB stick
External meter and keypad jacks on rear panel
7″ (diagonal) high-definition touch-screen display
Independent MAIN and SUB real-time FFT spectrum scope/waterfall displays with high dynamic range (100 dB)
Screen image capture to SD card
Scope/waterfall windows can be stacked side-by-side or MAIN above SUB
Multi-purpose real-time audio scope and FFT audio spectrum analyzer
Rear-panel DVI-D port for external video display
Large RAM reserve for future firmware expansion
Operating refinements:

Mute band by pressing corresponding volume knob
Mic DC bias can be disabled for dynamic mc
Keyer memories can use F1-F8 on keyboard
Can record and capture directly to USB drive or SD card
Adjustable independent beep tones for the main and sub bands from 500-2000Hz